Last sunday I went to a friend of mine who was celebrating her birthday by throwing a BJD meet party.
I really had a wonderfull time, and was amazed by all the dollies that came along with their owners. I have never seen so many dolls together!
I wanted to share some pictures with you of this day.
Please note, not all dolls belong to me.
Here is a picture and a list of all dollnames and their owners.
( with thanks to the b-day girl who knew all the names of the dolls and who they belong to. )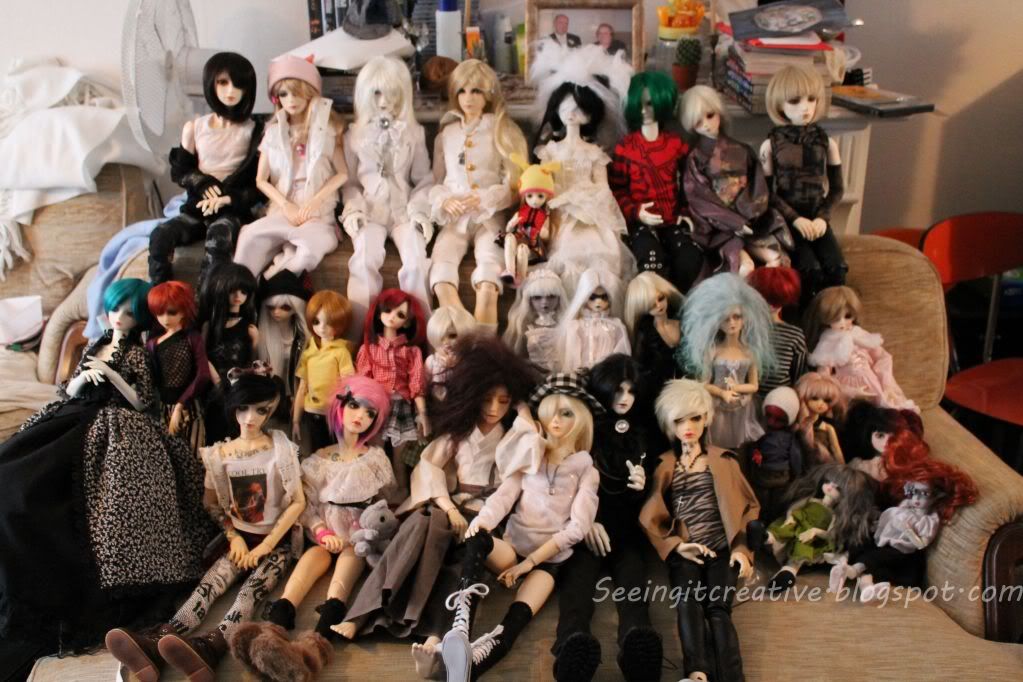 Top Row: Regan (Lavender-Traces) ,Cassie (Proserpine) ,Severus (devilishxlianneke) ,Dae (Proserpine) ,Iefje (Staralfur) ,Pandora (Frankenmar) ,Robbie (Vejitadmc) ,Chelsea (Rasilverstorm) ,Patch (Kyanara)
Second row: Charlotte (Vejitadmc) , Tras (Brigitte) , Bill (devilishxlianneke) , Aiden (devilishxianneke) , Shou (Vejitadmc) , Ashley (Lavender-Traces) , Rayne (Lavender-Traces)
Liza (Kyanara) , Leech (Frankenmar) , Ferdinand (Brigitte) , Echo (Staralfur) , Yasha (Brigitte) ,
Tari (Rasilverstorm)
Bottom Row: Cooper (Soft_Poison) , Candy (Soft_Poison) , Rembrandt (Pete) , Kim (Lavender-Traces) ,Vladimir (devilishxanneke) , Benji (Soft_Poison) , Milo (Staralfur) , Phyllis (Kyanara) , Sarah-Ann (Kyanara) , Akari (Brigitte) , 'Bandit' (Brigitte)
Not on picture: Loren (Nikskiej)
More pictures can be found here:
CLICK